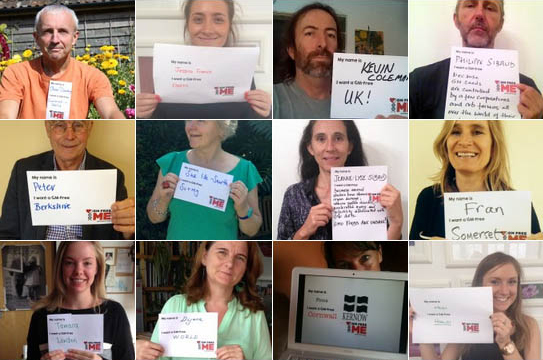 Keeping GMOs out of the UK is everyone's business and yet most people feel totally excluded from the GMO debate.
The biotech industry spends a lot of PR money to try and exclude the views of real people from the conversation about GMOs. It works hard to try and make most of us feel that the subject is too 'complex' or too 'scientific' or that our views don't matter.
We'd like to change that.
GMOs are not just a science issue. They are a social, political, economic, ethical and moral issue that we all have a stake in. Once the manor woman on the street gets involved the issue of GMOs is forced out of the often abstract world of academia and science and into the harsher light of reality and everyday life.
GM Free ME opens the door to a bigger conversation involving lots more people. It is a visual petition that gives faces and voices to the majority of real people in the UK who want this country to remain GM Free.
The majority don't want GMOs

We know you're out there because poll after poll in the UK shows you are. For example:
And the public aren't the only ones with concerns:
A recent survey in Farmer's Weekly found that 61% of respondents said they "would like to grow GM crops". However 26% of respondents said they "would not cultivate [GM] under any circumstances"
Even among those who said they would like to grow GM crops nearly a quarter (24%) said they see "no advantage in growing GM crops" – which begs the question of why they would want to grow them in the first place.
In fact, only 15% of farmers said they would eat GM, and investment in GM was ranked last among farmers' priorities for Government attention.
The last major Europe-wide public opinion poll on GM crops, conducted in 2010 by Eurobarometer, found the majority of respondents were concerned over the safety of the crops. It noted: "The wider picture is of declining support across many of the EU Member States – on average opponents outnumber supporters by three to one, and in no country is there a majority of supporters."
In spite of this, the UK government has remained firm in its intention to bring GM crops and foods into the country. But here's something you may not know: even though our politicians are trying to push GM foods onto our plates, the restaurants at the Houses of Parliament have banned GM food since 1998 as a matter of "consumer choice".
Our elected representatives are already GM Free. So, if they don't want to eat it, why are they telling us to?
Put yourself on the map
Swipe through the gallery on GM Free ME and you will find people of every age and background, expressing a wide range of views about keeping GMOs out of the UK.
But all the photos are also placed onto a map that divides the country into political constituencies. Clicking on your area or typing in your postcode shows how many others near you have joined in so far. If there's nobody else in your area – why not help populate it with friends and neighbours?  Uploading a photo only takes only a minute and yet helps build momentum behind a lively and unique nationwide campaign.
Once you upload your photo you will be sent a link to you own personal page which you can share via social media, or email to your friends to encourage them to take part. Or you can send it to your MP or supermarket to let them know it's time to change their policies on GMOs.
Our aim is to have 100,000 or more photos on the site. When we reach that number we are planning to deliver a giant canvas with all our supporters' faces on it to Westminster and unroll it in front of Number 10.
To get there we're going to need help. So please spread the word through your family, your neighbourhood, your university or office and let's start a conversation than can't be stopped about creating a GM Free nation.