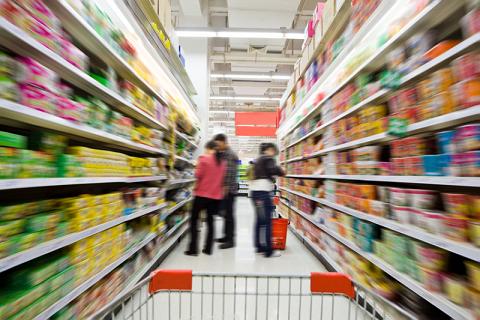 Although we like to think of the UK as being completely GMO free – the truth is that GMOs have started to slip into our shopping baskets without many of us really knowing about it.
For many years supermarkets complied with the wishes of their customers and went out of their way to source dairy, meat and eggs that did not come from animals fed on genetically modified feed.
But in 2013, one by one, the supermarkets changed their policies. Morrisons and Asda were the first to allow GM-fed animal products onto their shelves and Tesco, Sainsbury's, the Co-op and Marks & Spencer quickly followed suit.
Waitrose poultry remains GM-free – but not its pork. And of course organic brands, have remained firm on their GM Free commitment.
Despite consumer opposition, supermarkets say there is not enough non-GM feed to allow them to source GM-free animal products. Non-GM soya providers in Brazil continue to assure us that there is plenty available, but the supermarkets are not listening.
What is more shortly after the UK supermarkets caved-in 12 supermarkets from across Europe signed the Brussels Soy Declaration, affirming that they want EU consumers and farmers to have a choice to eat and use non-GMO soya.
In other European countries such as Germany, France, Luxembourg and Austria there are Government-sponsored voluntary labelling schemes in place for non-GM-fed meat, milk and eggs. This means consumers can choose to buy non-GM-fed products. Most recently Wiesenhof, the largest German poultry producer, has announced that it will return to using non-GM animal feed due to consumer demand.
If you buy organic meat, milk and eggs you can also be assured that it has been produced using non-GM feed. From 2012 GM-fed meat, milk and dairy products in Turkey were labelled and in Sweden, GM feed is no longer used, thanks to consumer pressure. 
The UK, however, is marching grimly on towards a GM-fed future.
Bad for everybody
Our supermarkets justify their change of policy by claiming that there are no health risks associated with feeding GMOs to animals.
But even the UK Food Standards Agency now acknowledges that the genetic material from GM animal feed does survive to pass through and from the gut. This is something that, just a few years ago, researchers said could not happen. Now scientists are scrambling to see if this genetic material is active in humans, while campaigners are asking the not unreasonable question: shouldn't you have figured that out BEFORE we ate it?
Far from being completely harmless, new research shows that GM in animal feed causes health problems like hormone disruption and gut inflammation in the animals that have been fed concentrates that contain it.
From a health perspective this is an important issue. Retailers and regulators are often acting on old, out-of-date evidence to make decisions about our future.
We need to remember also that there are detrimental consequences of growing GM on ecosystems, biodiversity and human health, due to the increased volume of pesticides that go hand in hand with GM agriculture, and the genetic pollution due to cross pollination of GM with non-GM species.
Whichever way you look at it, GMOs are a problem.
Not good enough?
The chart below shows how the major UK supermarkets compare when it comes to hidden GMOs.
Many supermarkets are cagey when it comes to questions about GMOs in their products. They may say that they don't sell any foods that are made from GMOs or that any foods they do sell are clearly labelled (which is required by EU law anyway). Many will state that some or all own brand products are GM free. But own brands only account for around half of supermarket sales. In addition, few supermarkets have methods in place to trace the source of animal feed that goes into their products. Read their websites and they will often tell you that they can't guarantee animals are not fed on GMOs.
(UPDATE: as of 2016 only Waitrose has made a firm commitment to replace non-sustainable Brazilian GM soya feed with sustainable non-GM EU soya by 2020).
If you don't think this is good enough, then let your supermarket know.
People who want to be GM Free are also shoppers who want to be GM Free. So why not send your supermarket a link to your GM Free Me page along with your concerns about GMOs. Or why not post your GM Free Me picture straight to their twitter page (there are share buttons to make all this easy for you).
The sooner that supermarkets realise there is an active market for non-GMO products the sooner they will remove the hidden GMOs from their shelves.
If you choose to call your supermarket to find out more, remember helplines are often staffed by people who don't know or don't know how to find out about the supermarket's GMO policies. We have heard reports from colleagues that calling on consecutive days can yield completely conflicting information.
For a definitive answer, writing is always best. So write to your supermarket and if you get a response, please send us a copy!
In addition to writing to your supermarket please sign the Mums Say No to GMOs petition asking supermarkets to label GMO-fed animal foods. You may also wish to visit our colleagues at GM Freeze to learn more about their Feed Me the Truth campaign.
ALDI
ASDA (OWNED BY WALMART)
BOOTHS
BUDGENS
THE CO-OP
ICELAND
LIDL
MARKS & SPENCER
MORRISONS
SAINSBURY'S
TESCO
WAITROSE
 Please note we update the information in this article occasionally. See our website and also the Beyond GM website for more news and stories.